Posted on Mon 28 Jul 2014 at 5:09 PM PST. Filed under
General
.
Let's assume you shipwreck on a deserted island (knock wood). Somehow, half-buried in the sand you find a magic box with a message in it. The message asks you to specify 10 foods that the box will magically bring to you every day. These will be the same foods every day, so your choices have to be very specific. If you choose foods like pizza, which hold no nutritional value, you will die within a few months.
I was inspired to write this blog post because of a folklore story about Napoleon. He was imprisoned for a while in the 1800s, and was supposedly asked what food he would like in prison. His captors would serve him the same food daily, hoping that he would expire "naturally" out of malnutrition.
But here's how to trick the magic box (or your captors) to give you the highest bang for your buck, not only keeping you alive until rescue arrives, but to make you thrive!
1. 150 gr of pastured beef or goat heart
The heart must be cooked in bone broth with onion, garlic, sea salt, and grass-fed butter. We pick a heart over muscle meat because it's more nutritious and it has the highest levels of CoQ10. We don't pick liver because its extremely high levels of copper and A will work against your health if consumed daily (although liver must be consumed once a week on different living conditions, of course).
2. 150 gr of wild Alaskan salmon, sashimi raw
Very high levels of omega-3 and many other nutrients. Wild sardines or wild trout would be my No2 choices.
3. 100 gr of wild, raw oysters
If liver is the most nutrient-dense food of all, oysters is the No2. We pick it because of its high levels of zinc among others.
4. 1 pastured duck egg, raw or fried
Chicken eggs hold nothing to duck eggs. Duck eggs are more nutrient dense per gram, and they create fewer allergies than chicken eggs. Cooked in coconut oil if fried.
5.30 gr of sunflower seeds, soaked for 4 hours
These have very high levels of B1 and E (higher than that of almonds). Extra B1 is needed on a diet that doesn't contain legumes or enriched flours.
6. 100 gr kale, raw
The most nutrient-dense vegetable. Served with extra virgin olive oil and sea salt.
7. 250 gr of white potatoes, baked
We need some starches, no matter what keto people say. We carry friendly bacteria in our gut that can only live on starch. White potatoes also carry the important resistant type of starch.
8. 100 gr of asparagus, or 100 gr of an avocado
Asparagus seared in coconut oil. Avocados would be my personal second choice, but you might want to pick that instead, if you are after more fiber and even more nutrition.
9. 500 gr home-made raw, full-fat goat kefir
Fermented foods are needed, and some calcium too. Kefir is the definite powerhouse in this case.
10. 1 pink grapefruit per day
Antioxidants and enough vitamin C. If grapefruits are unavailable (due to season), 150 gr of blueberries will do.
And of course, lots of natural, spring water.
As you can see below (click to view larger), that set of foods daily give you pretty much over 100% of your daily needs for most needed nutrients. You can't go wrong with these!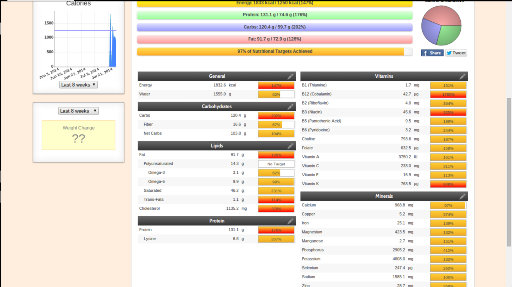 Don't be afraid about the trans-fats shown there and the low omega-3 shown in the chart. The database that contained similar foods did not include their pastured/wild versions, and so the data in that respect are a bit skewed. The vitamins/minerals are pretty much correct though.