Posted on Sat 19 Jul 2014 at 2:19 PM PST. Filed under
Recipes
.
Ingredients (for 2-3)
* 2 small cans of tuna (solid chunks), or a tuna fillet
(* For veg*n, you can use 150 gr of "chicken of the woods" mushrooms)
* 2 large zucchinis
* 2 tablespoons of olive oil
* 1 cup of 'cream of mushroom' soup (recipe with dairy, or without)
* 1/3 cup of frozen peas
* 1/4 cup chopped onion
* 1/2 cup coconut, almond or full-fat dairy milk
* 1/2 cup of crumbled pork rinds (optional)
Execution
1. Wash the zucchinis and cut them in half. Using the Blade A of the spiralizer device (the blade with no triangles that creates ribbon-like noodles), spiralize them. Then cut the long spiralized ribbons to not be so long. If you don't have a spiralizer, cut the zucchinis in half, and then cut thin slices out of them (about 3″ long each). Preheat oven at 400 F (200 C).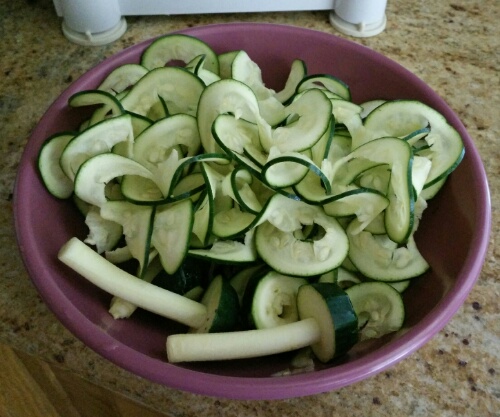 2. On the stove, use a deep frying pan and pour the olive oil in it. Under medium heat lightly fry the onion and peas in it for 3 minutes. Stir occasionally with a wooden spoon.
3. Add the cream of mushroom soup, milk, and stir until the mixture becomes smooth, it starts bubbling and most of its liquid has evaporated. Turn off the heat.
4. Drain the tuna cans, and pour the tuna into the hot mixture, and very gently stir 2-3 times. Add the zucchini noodles and frozen peas and stir gently again a few times.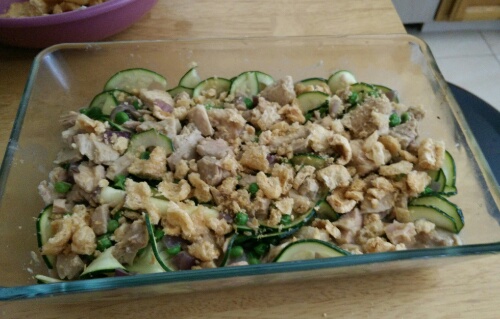 5. Pour the whole thing into a baking dish. Crumble the optional pork rinds with your fingers and spread them on top. Bake for ~30 minutes until it gets golden brown, and there's not a lot of liquid left in the dish (zucchini tends to release liquid). Serve hot.