Posted on Sun 9 Feb 2014 at 3:27 PM PST. Filed under
Recipes
.
When I was living in the UK, more than 12 years ago, fish & chips, and bangers & mash were my regular pub food. So, here is part I, the Paleo version of fish & chips.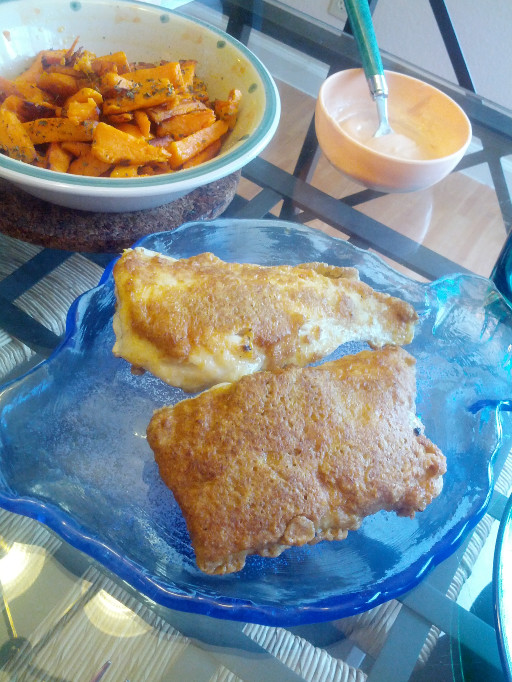 Ingredients (for 2)
* 2 wild cod fillets (about 200 gr each)
* 1/3 cup of tapioca starch
* 1/3 cup of ground flax seeds
* 1 egg
* 3 tablespoons of coconut (or avocado or olive) oil
* Salt, pepper, paprika and any other spice you like
Method
1. Wash the cod fillets and pat dry with a kitchen towel. Set aside.
2. On a large semi-deep dish add the tapioca, flax and spices. Using your hands, mix well. Take the fillets one by one and coat them with the dry mix on both sides. Set fillets aside again.
3. Add the egg to the mix, and whisk it well. The resulted paste must be thick, but not dry. It should have the consistency of oatmeal. It might require to add a bit of water if it's too dry.
4. Add the fillets again, and coat them well. Set the frying pan on medium heat, with the oil. When the oil is a bit hot, add the fillets in. If your frying pan has a cover, all the better. Turn the fish only once, after it has become golden brown on one side. Overall, it takes about 6-8 minutes of frying.
5. Serve with lemon, a two parts mayo + one part ketchup sauce, and fried sweet potatoes (or other root vegetable, like parsnips, turnips, rutabaga for lower carb).
Per Serving: (fish part only) 550 calories, 11 gr of net carbs, 28 gr of fat, 55 gr of protein, 6 gr of omega-3 (cod has only 0.3 gr of O-3, the rest comes from flax, so it's ALA). RDA: 95% B12, 38% B3/Niacin, 48% B6, 55% choline, 46% phosphorus, 29% magnesium, 86% selenium.