Posted on Fri 7 Feb 2014 at 12:15 AM PST. Filed under
Recipes
.
I've tried this classic carbonara recipe using spaghetti squash in the past, and it came out all wrong. But it was a slam dunk using spiralized zucchini tonight. My husband loved it, and that surprised both him and myself. This is a recipe to definitely try if you're on Paleo.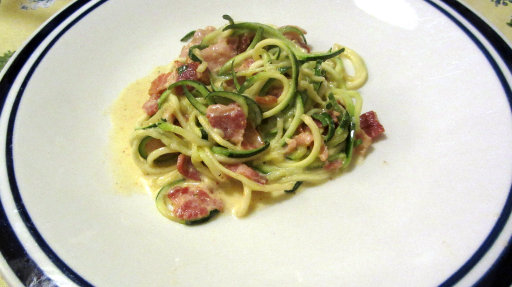 Click for a larger view
Ingredients (for 2)
* 3 medium zucchinis
* 6 slices of smoked bacon (6 button mushrooms for vegetarian)
* 1 tablespoon of creme fraiche or sour cream
* 1 egg
* Black pepper
– A spiralizer device
Method
1. Wash the zucchini. Cut the top and bottom of each zucchini and then cut it in two pieces. Spiralize each piece using the device, using the blade with the smaller triangles. Cut the resulted zoodles with a knife or kitchen scissors at about 8″ length. Set aside.
2. Cut the bacon in small pieces and add on a cooking pan under medium heat.
3. In a bowl, whisk together well the sour cream and the egg. Add black pepper.
4. When the bacon becomes crispy to your liking, remove from heat, and drain away the rendered bacon fat. Return bacon to medium heat, and add the zucchini.
5. Keep stirring for 1-2 minutes and add the egg-cream mix. Turn off the heat, stir well a few more times, remove from the stove, and immediately serve. The zucchini must not be fully cooked, or it will become soggy. The less you cook the egg-cream too, the more creamy it'll be. Enjoy!
Per Serving: 320 calories, 4.5 gr of net carbs, 23 gr of fat. About 30%-35% of the RDA for each of the B vitamins, 12% folate, 36% vitamin C, 45% phosphorus, 35% selenium, 30% zinc.