Posted on Mon 12 Aug 2013 at 8:40 PM PST. Filed under
Recipes
.
A Paleo/Primal version of the popular Indian vegetable fritters. I've been meaning to do this for a while now!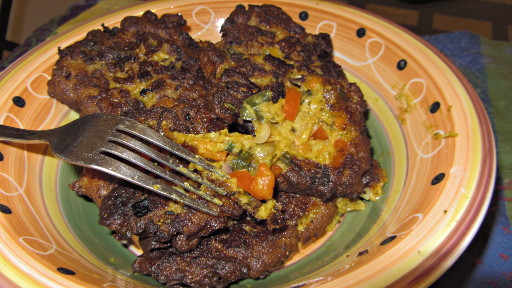 Ingredients (for 4)
– Batter
* 1/2 cup of tapioca flour
* 1/2 cup of almond flour (use more as needed)
* 2/3 cup of full fat yogurt
– Veggies #1
* 1 small sweet potato
* 1/3 of zucchini
* 1/3 of red pepper
* 1 carrot
* 1 onion
* 1/3 cup of broccoli florets
* 1/4 cup of eggplant (optional)
* 1/4 cup of peas (optional)
– Veggies #2
* 1/2 cup of spinach, chopped
* 1/4 cup cilantro or Italian parsley, chopped
– Spices
* 1 tspoon (each) of chili powder, paprika, ground cumin, ground coriander, ground ginger
* 1 TBspoon (each) of garam masala, curry powder, turmeric, ground fenugreek, garlic powder
* Sea salt
– Oil
* 2 tbspoons of coconut oil
* 1/2 cup of olive oil
Method
1. Peel the sweet potato, wash it, and cut it in 1/3 inch sizes. Wash and cut the rest of the "Veggies #1" similarly.
2. Add the coconut oil on a frying pan under medium heat. Add the "Veggies #1" along 1/3 cup of water. Cover, but stir often.
3. When the water has evaporated and the veggies are almost soft, remove them from the fire and set aside to cool a bit.
4. In a big bowl, add the spices, and the batter ingredients. Mix well with a big spoon. Then, add Veggies #1 and #2. Mix well again. The batter should not be too liquid, but not to rigid either. Adjust as required.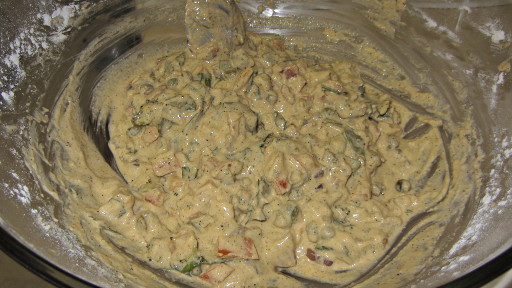 5. Add the olive oil in the frying pan under medium heat. Spoon over 4-5 heaping batter spoonfuls. Cook about 4 minutes per side, or until very well golden brown. Do the same for the rest of the batter. Expect this pakora version to be somewhat moist inside while hot.