I always loved John Maus' song "Quantum Leap", but I suddenly got inspiration to do a video for it early in February. After two months of work, my first animation is ready. This is by far the longest video work I ever done, so I put my best self in it. It's not perfect (there's pixelation in some scenes), but I think the overall lo-fi result is good, considering that I didn't use animation-specific apps that automate things. I sketched on a Wacom tablet and Photoshop, editing was done on Sony Vegas Pro 11, while the lasers in the final battle scene were made in After Effects CS5.
Update April 15th: A digital painting of John Maus I did tonight over a few hours (painted over a still frame, and then posterized). Not a great piece of art obviously, but hey.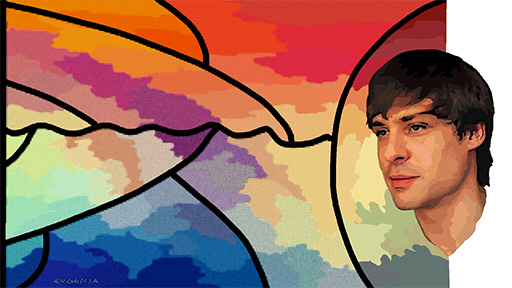 Update April 20th: Top-5 tips to animate your comics.
I emailed John Maus for permission to post the video btw, but never got a reply back. After lots of thinking about it, I decided to publish it. Find below credit links for the Creative Commons "Attribution" & NASA background images used in the video, in order of appearance. I hope I didn't forget anyone.