Posted on Sat 21 Jan 2012 at 9:30 PM PST. Filed under
Recipes
.
JBQ had a food request today, and since he doesn't often makes such requests, I knew I had to satisfy his cravings. He requested a vegetable soup, and so I modified Alton Brown's popular soup recipe to make it more Paleo-friendly. JBQ said he absolutely loved the soup and that it felt fresh and tasty, although I believe that anything that gets cooked with bone marrow broth becomes tasty. Just like with duck fat…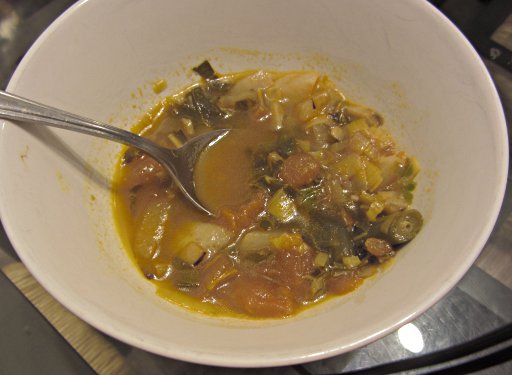 Ingredients (for 4, 10 gr of carbs per portion)
* 1 tspoon coconut oil
* 1 tspoon pastured butter
* 1 leek, chopped
* 1 garlic clove, minced
* 1 Thai chili pepper
* 1 carrot, chopped
* 1 turnip, chopped
* 3 button mushrooms, chopped thinly
* 1/3 cup frozen green beans, cut in 2″ pieces
* 1 small zucchini, chopped (optional)
* 2 green leaves, chopped (either kale, collards, turnip, swiss chard, or a small bunch of spinach or bok choy)
* 2 ripe tomatoes, peeled & chopped
* 2 cups beef bone marrow broth
* 1 TBspoon of fresh parsley, minced
* Salt & pepper to taste
Method
1. In a big cooking pot, under low heat, add the coconut oil and butter. When hot, add the cleaned & chopped leek and minced garlic. Cook for 4-5 minutes, stirring occasionally, then turn the heat to medium.
2. Add the Thai chili pepper, carrot, turnip, mushrooms, green beans, the optional zucchini, and the green leaves. Stir occasionally, and cook until most of their juices have evaporated.
3. Add the chopped tomatoes, stir and cook for another 2-3 minutes. Then add the bone broth, and 1 cup of water. Cook for about an 45 minutes in medium heat, or until the liquid has been reduced to the amount you find satisfactory for a soup.
4. A few minutes before it's done cooking, add the parsley, salt, and freshly cracked pepper. Serve hot.