Posted on Mon 2 Jan 2012 at 2:15 PM PST. Filed under
Recipes
.
We had this Paleo-friendly salad for lunch today. JBQ said that he hadn't had this dish for many years (he used to have it in France), so I decided to try it out as our main dish (we had thinly-sliced smoked duck breast as an appetizer). It all came out really good.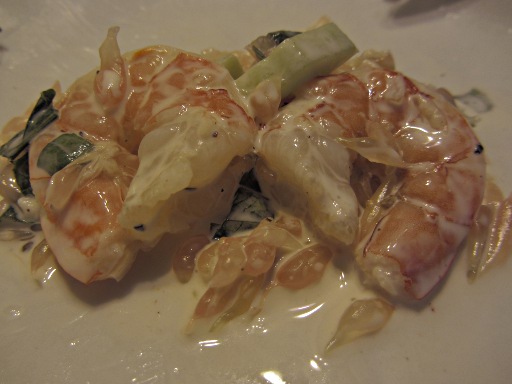 Ingredients (for 2, 10gr of carbs per person)
* 10-12 large shrimp
* 1/2 of a cucumber
* 1/2 of a pomelo or a whole grapefruit
* 2-3 TBspoons of fresh chopped basil
* 2 heaping TBspoons of mayonnaise
* 1-2 TBspoons of lime or lemon juice (optional)
* Freshly cracked black pepper
* Salt to taste
Execution
1. Boil your shrimp in some boiling water for a few minutes. When done, put them in a colander and let lots of cold water run through them. Remove their shell and their vein on the back of their body. If you are using fresh, de-shelled and already-cooked shrimp, omit this step.
2. Place the citrus on a steady surface and hold it from the top. Using a big knife cut the outer part of your citrus fruit from top to bottom, all around it (it's ok if a bit of the fruit goes to waste using this method). Then cut it in the middle (height-wise), and remove the skin from each segment. Place the main fruit (without any skin) on a big salad bowl, in chunks.
3. Peel the cucumber, cut it in two length-wise, and then two more times (so you get 4 long segments). Run the knife through each of these segments to remove some of the seeds (you can eat these while you're preparing the salad…). Slice the cucumber segments in 1/3″ slices.
4. Add the cooled shrimp in the salad bowl, the cucumber, and the chopped basil. Crack some black pepper, and add some salt. Taste a small bit of the citrus fruit. If the fruit is bitter, then you don't need to add the lime juice. But if your fruit is rather sweet, then squeeze some lime or lemon juice (1 or 2 TBspoons depending on the sweetness of the main citrus).
5. Add the mayo (home-made is best, but if you must buy it, strive to find a full-fat one without additives that is made with real eggs and olive oil), and carefully mix everything well using a spoon. Add more mayo if required. Serve immediately and enjoy!
Comments Off

on Shrimp & Citrus salad