As I've written in the past, since we bought our Roku XD|S, we watch lots of online video. Of course, my favorites are mostly on Vimeo, but not because YouTube doesn't carry the same videos (it does), but simply because it's easier to find them on Vimeo — since quality content is encouraged, and promoted there (rather than these stupid vlogs that are getting promoted by YouTube).
So while we were watching such content, on our 50″ Pioneer plasma TV, from 2.5-3 meters away, my husband and I clearly noticed that YouTube HD videos were not as detailed as Vimeo's. Ignoring the PNSR result graphs below, even with the naked eye the difference is noticeable. There was lack of detail and sharpness. And I'm not talking about artificial sharpness that anyone can add during post-processing, but lack of true sharpness and detail in the video compared to the original. I could see this problem on my PC too for months now, but I thought that on a TV this would not be as evident. But it was.
So I went ahead, ran some tests, and here's what I found. Utilities used was pDiff, a pixel differentiation meter over the original, and a bandwidth calculator. The originally uploaded videos can be downloaded from Vimeo, if you're logged-in. I used video samples from PLUS users because these are the only ones that the original file is still in tact after a week (non-PLUS users can only offer for download the re-encoded version after a week). You can double-check and verify the results after downloading some of the frames used for the comparison (12 MB).
1080p sample
– YouTube: 4 mbps (includes 128 kbps audio). Pixel difference: 644980 px.
– Vimeo: 4.62 mbps, 2-pass (4.5 mbps for video, 128 kbps for audio). Pixel difference: 513204 px. Please note that 1080p is only activated on Vimeo IF a Vimeo PLUS user specifically checks the 1080p box in the video's preferences.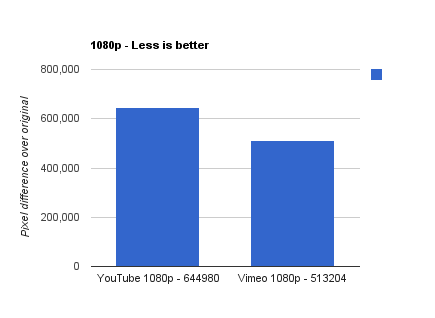 720p sample
– YouTube: 2 mbps (includes 128 kbps audio). Pixel difference: 258864 px.
– Vimeo: 2 mbps, 2-pass (includes 128 kbps audio). Pixel difference: 213288 px.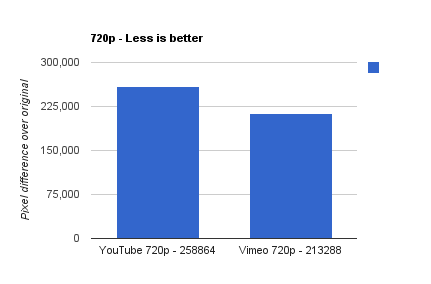 The difference looks small, but it's actually very visible while watching something. YouTube's version has too much softness over both Vimeo's and the original's. I personally think that both Vimeo and Youtube should upgrade to 2.5 mbps for 720p (with 160 kbps VBR audio), quality could be better in that resolution — there were times that I wasn't satisfied with either of the two!
But for 1080p, Vimeo seems to have found a sweet spot at 4.6 mbps: quality is indeed stellar, and better than our Comcast cable box! This was one of the multitude of reasons we actually got rid of our cable TV just last week. On a second thought, I'd love to see Vimeo supporting 5.1 audio in 1080p, bringing the bitrate at 5 mbps overall.