Posted on Wed 4 Nov 2009 at 7:27 PM PST. Filed under
Filmmaking
.
Red Giant Software released yesterday a Vegas version of their brand new product, Magic Bullet Mojo. Mojo is a simpler version of Magic Bullet that only has one goal: to make your footage look like the Hollywood movies of the last few years: teal-looking, but by preserving the skin color (which can be a tricky thing to achieve without this plugin). I tried the demo, and it indeed does what it promises. The algorithm they use to auto-figure-out where the human face is in the frame, and preserve that color, works great. You can use the plugin's UI to bleach or warm your video, punch it, change the color tint from green to teal to blue, select the way the algorithm finds the face in the frame, and finally, how much you want these settings blended with the original, ungraded look.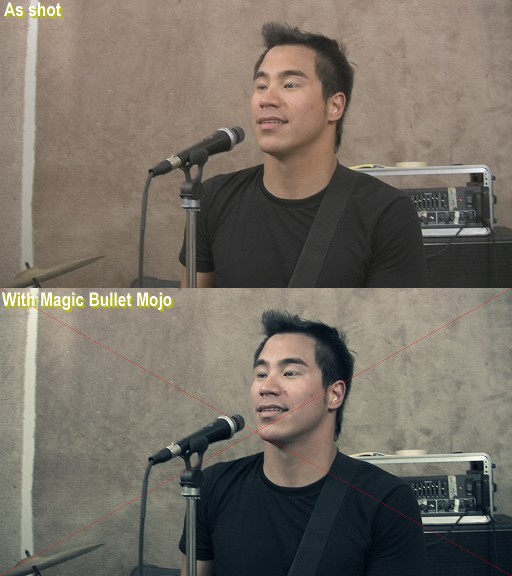 Talent is Dave Tsui, from the Bay Area band HIJK
The only problem I encountered is that the "mojo" slider punches up contrast and/or gamma (even with "bleach"/"punch" all the way down). I would prefer to contrast/gamma my video separately if required, with the use of another plugin, and only use Mojo for its teal/skin abilities. Finally, on Vegas, we are used to double-click the UI's slider buttons to get them to jump back to their default values, but this doesn't happen with the Mojo UI.
Update: One more example. Except the unwanted dark gamma change that I can't get rid of with Mojo, the rest of the tint is as it's supposed to be. I know that to some of you it looks weird and that the original picture looks more natural, but the point of Hollywood movies — that Mojo emulates — is to not be natural.