Posted on Sat 11 Apr 2009 at 4:32 PM PST. Filed under
Software
.
This is a public service notice: do not use iMovie and Final Cut Express if you respect yourself, and your footage. For the following two (and a half) reasons:
1. All HDV/AVCHD footage is imported using the ANCIENT, LOSSY, UGLY, DESATURATED, TERRIBLE "Apple Intermediate Codec" codec (AIC). Apple, on purpose, won't edit the native streams of these files, and won't use their much better, and newer technologically, intermediate codec "ProRES" that their FCP editor does. In other words, you are losing heaps of quality from the GET GO. Before you even start editing. And if that's not enough, these editors won't allow you to just drag'n'drop .m2t/.m2ts files on their editors, they have to be "captured" directly from the camera, otherwise Apple is treating them like pirated files or something, and refuses to import them! Apple 1, User Trust 0.
2. iMovie uses by default the UGLY, GHOSTLY "blend fields" algorithm to de-interlace interlaced footage when exporting for the web. So on top of the original loss of quality, here's some added ghosting for you! I am not sure if FCE has a filter for "interpolation" support like FCP has, but it also uses "blend fields" by default. Personally, I never, ever, ever, export with "blend fields" because I want crystal clear, ghost-free footage even at the expense of some resolution. Of course, "blend fields" *is* a legitimate option and it has its uses, but it must be an OPTION, and not forcefully shoved down our throats.
[2.5: Despite FCE's $200 price point, it still doesn't support native 24p editing (for those who need it) even if a number of consumer cameras now shoot native 24p (e.g. the HV40 and some Panasonic ones). And of course, iMovie doesn't support native 24p either.]
So, Apple, shame on you! People spend $1000 to get an HD camera, and you fuck their footage up for them just for segmentation purposes. Oh, yeah, you can talk all day about "it's faster to edit AIC files", or that "most people won't even notice", but I DO notice. Each time I see such a video on vimeo, the first thought I have in mind is this: "Huh, here's another iMovie export for ya!". I don't even have to look at metadata or ask the author if he used iMovie or not. I KNOW he did. I can SEE it. The 'iMovie/FCE effect' is that visible!
My suggestion to consumers who respect themselves: either buy FCP or Premiere CS4 ($1200+) for your Mac, or even cheaper, buy a $500 DELL desktop PC with 3 GBs of RAM and Vegas Platinum 9 ($80). Keep your Mac alright, but get a PC specifically for video editing. Vegas Platinum is able to edit the native files, lets you select a de-interlacing algorithm, and it is the only consumer editor that supports native 24p editing. But this is not about Vegas. And no, this is not a Mac vs PC thing either. It's a real suggestion, that makes both financial and technical sense. Go figure.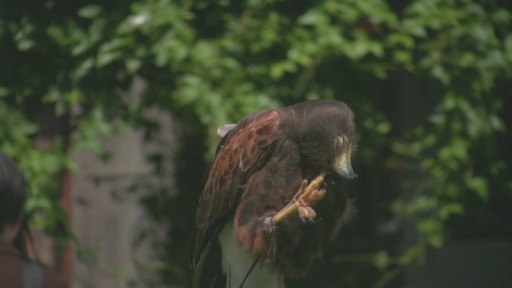 iMovie result. Notice the ghosting and de-saturation over the native file.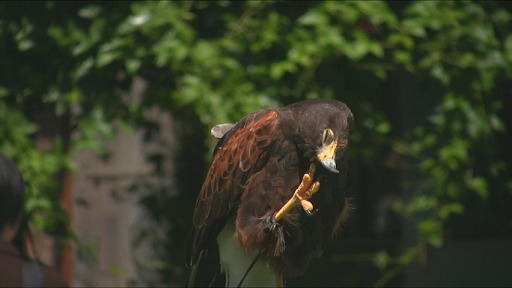 Vegas result. Interpolation and native editing creates a clearer, higher quality result.
Oh, and why the hell we can't deinterlace with Quicktime when exporting with the .mp4 container and not in .mov? And don't let me start about their 1.5 years old bug where de-interlacing in .mov sometimes won't work, even if the "deinterlace" checkbox is checked! Or the QT gamma h.264 playback problem that is biting everyone, including professionals. Bug reports are already in place (I personally made sure of that), Apple hasn't fixed any of that.