Panasonic thought it was April and NAB time today, and so they had a bunch of press releases. Among them was their new high-end prosumer/indie camera, the HMC150. This is a pretty nifty camera, an upgrade over the HVX-200, which was the indie filmmaker's darling so far. This camera uses 3CCD 1/3″, which creates as much background blur as the HV20. Not very much that is. On the other hand, it records full HD at 30p and 24p, and also native 720p and 1080/60i. It's expected to cost $6000.
The most interesting point here is that Panasonic goes AVCHD and the tapes are a thing of the past. I did fully expect that all prosumer cameras will be AVCHD for this next generation. I now expect Sony's and Canon's announcements to also be AVCHD-based.
The AG-HMC150 sounds sweet with its 3.5″ LCD screen, but two things really bug me to the point that I want to throw this camera to the head of its product manager: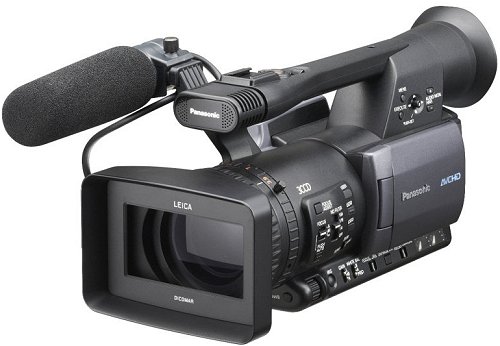 1. No internal (swappable?) hard drive in addition to its SDHC card slot. This makes the camera even more expensive, and honestly, not as convenient as Panasonic would like us to think it is. Panasonic is a big flash manufacturer, so they want us to buy, buy, buy SD cards. Freaking douche bags.
2. According to the press release, it uses 13 mbps for 1080/60i (1440×1080). This is not enough. We've seen that res/bitrate on many other cameras and quality was not even better than the HV20 which is a $700 camera nowadays. Panasonic should give at least 18 mbps to 1080/60i and 24 mbps (full AVCHD spec) to 1080/24p/30p (1920×1080).
And 1080/60p would have been nice too, at around 40 mbps (even if they had to go over the AVCHD spec). But I understand that it might be a bit early for 1080/60p (the next big version of Blu-ray will support that, but that'd be in years from now).
But honestly, these two points above, are really stinky. I can't wait to see what Canon has to offer for their next-gen prosumer line. I have $3000 to spend.