Posted on Sun 12 Aug 2007 at 5:00 PM PST. Filed under
Software
.
Almost 1/3 of the pictures we snap usually need color correction. 99% of the users never do color correction, but when you shoot something like this, maybe you want to invest 3 minutes to correct it. Photoshop and Gimp have good color correction tools, but I am usually using Vegas these days for my video projects (that sometimes also need color correction). There are many ways to do color correction with Sony Vegas, but this is how I do it — and it seems to work for me.
Load the media you want to color-correct on the timeline and the apply the "Color Corrector" filter on your picture/video. There is a color-picker icon on the bottom-left of the "High" color wheel. Click it and then using the mouse pointer-turned-picker click on the whitest point in your picture that is well-lit. Then, use the picker on the bottom left of the "Mid" color wheel and pick a white point in your picture that might be in the shade and not well-lit (e.g. the white part of people's eyes, or the fold of a white t-shirt). Then, click on the bottom left of the "Low" color wheel and either find the most dark "white" point in your picture (e.g. a person with a white t-shirt that's in the background in a dark shade), or click on an actual dark point in your picture. You will have to play around with that last picker, I found that in some situations picking dark white points works best, while for others it works best to pick actual dark/black shadowy elements.
Here's my before and after of a bunch of very old copyright-free images (1, 2, 3) that were shot on film and have suffered with the passage of time. However, remember that while old film pictures can be salvaged this way, modern digital pictures/video also require color balancing sometimes. I had some great results color balancing this picture with Vegas, but I can't upload it as it's a copyrighted image.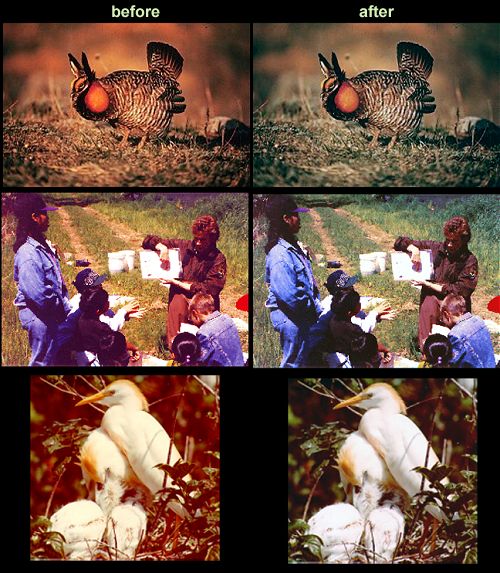 Update: Most of HappySlip's videos are not white balanced.