Posted on Sun 1 Jul 2007 at 9:52 AM PST. Filed under
Mobility
.
…It has a bug that prevents OSNews from rendering correctly in its cHTML version. As you can see below, Safari creates a "minimap" of the page even if it's not needed because this design fits even on some 128×128 cellphones, let alone on iPhone's big screen!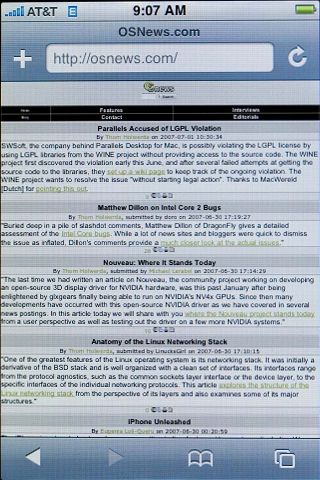 And when you zoom in, it does not fit the whole page in the 320×480 screen, even if in reality it would fit, and you have to finger-scroll. Nokia fixed this bug on their own copy of WebKit a few months before the release of the first Symbian S60 3.0 cellphone (I talked to them back then), while Opera Mini 4.0 which also features the minimap feature gets it right, right off the bat (I know that some Opera engineers are testing with OSNews). So basically, Safari for the iPhone has a bug with "100% width" websites.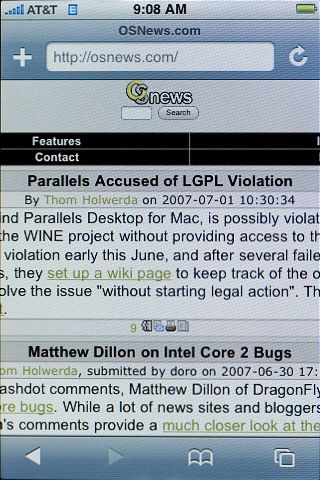 So I had to put back the full non-mobile page of OSNews for the iPhone, while in fact it would be desirable to serve the mobile pages instead. You see, the mobile version of OSNews is pretty much feature-complete at 95% of the features of the full page — it just doesn't have ads and such. I will try to get Apple to fix this bug, but can't promise anything.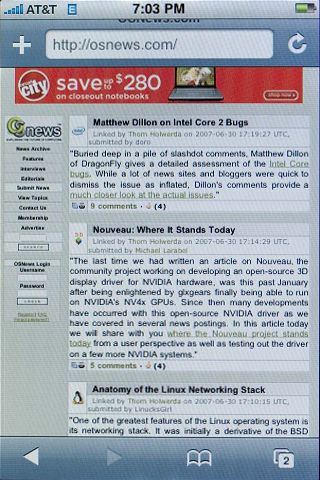 Many thanks to Michael from MobileBurn for the pics!