Posted on Wed 30 May 2007 at 3:10 PM PST. Filed under
Recipes
.
Fajitas is one of my favorites Mexican recipes, as long as I live in a country that stores sell the needed ingredients (e.g. easy in USA, but it's tricky to find them in Greece).
Ingredients (for 1)
* 0.35 lbs (150 gr) of tenderloin or london-broil beef
* 1.5 tablespoons of salsa of your choice
* 1/8 of the big kinds of onions
* 1/4 of a green bell pepper
* 3 tablespoons of guacamole
* 3 tablespoons of sour cream
* 1 tablespoon of olive oil
* 3 tortillas
Execution
1. Cut the beef, onion and pepper in thin, long strips, like in the picture below.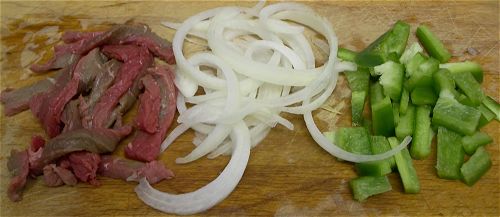 2. In a big frying pan add 1 tablespoon of olive oil and heat it up on "high". Add the beef and stir-fry it for 2 minutes.
3. Turn ON the oven to 400F (205C) and put the 3 tortillas in it. Bake for a few minutes just until warm, in parallel to the frying below.
4. In the frying pan add the onions and peppers and keep stirring for another 2 minutes. Add the 1.5 tablespoons of salsa and keep stir-frying until all liquids are gone and the onions/peppers now seem a bit softer (but not soggy).
5. Place the frying pan on top of a table-top protection. In a small plate put the 3 warm tortillas.
6. In your main plate take 1 tortilla, spread 1 tablespoon of sour cream and 1 tablespoon of guacamole on it, and then spoon on it 1/3 of the frying pan's ingredients. Close the tortilla as in the picture below and enjoy! Repeat step 6 two more times until the rest of the ingredients are gone.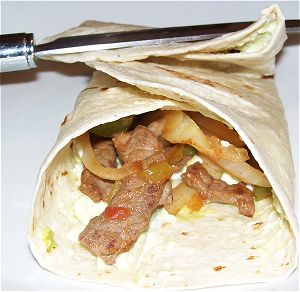 Tip: You can sprinkle some shredded mexican or cheddar cheese on the frying pan after step 5.