Posted on Thu 26 Apr 2007 at 4:55 PM PST. Filed under
Recipes
.
A low-calorie adaptation for this traditional Indian dish. This is a big, very filling vegetarian dish, amazingly at just 150 calories! This recipe is also South Beach Phase-II compliant.
Ingredients (for 1)
* 1 small eggplant (about 200 grams, 50 cals)
* 60 grams of canned diced tomatoes (15 cals)
* 90 grams of frozen 'peas & carrots' (50 cals)
* 1 small jalapeno pepper, seeded and minced (5 cals)
* 1/2 cup of fat free vegetable or chicken broth (10 cals)
* 1 tbspoon of light soy milk (3 cals, found at the Target SuperStore)
* 1 tspoon of fresh ginger root (5 cals)
* 1/3 of the big kind of onions (10 cals)
* 0 calorie non-stick spray
* 1 tspoon curry powder (2 cals)
* 1/2 tspoon ground cumin
* 1 tbspoon cilantro
* 1 clove of garlic
Execution
1. Preheat the oven at 400F (205C). Fork the eggplant a few times and then cover with aluminum foil. Place it in the oven to bake for 35-40 minutes until soft.
2. Seed and mince the jalapeno. Mince the cilantro, garlic and ginger root. Cut the onion in bite-sizes, about 1.5″x1.5″ each. Set all aside.
3. When the eggplant is done, remove it from the foil, and very carefully peel it away and discard the skin. Place the remaining eggplant in an open plastic dish and add the milk on top of it. Using a mash-potato tool, mash it away.
4. Spray twice in a pan with the non-stick spray, and place it under high heat. Add and saute the onions for a minute. Add the jalapeno, garlic, ginger, cilantro, peas & carrots and tomatoes. Stir a few times and then add the eggplant-mash in it.
5. Add the cumin, powder and broth. Stir well. Lower the heat to medium and let it cook for a few minutes until most of the liquid has evaporated (stir a few times during that time). Serve hot.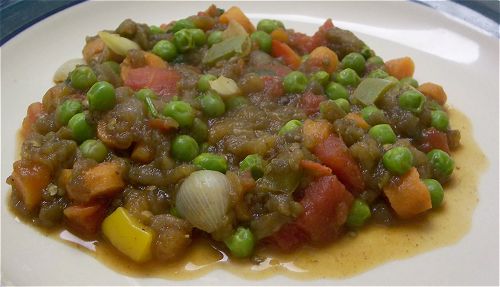 Tip: Safeway sells a small can of diced tomatoes that has jalapenos in it. If you have access to Safeway, use that because it's more convenient, cheaper, and the japapenos will be softer. It can be found in their tomato sauce aisle.