Posted on Wed 25 Apr 2007 at 2:22 PM PST. Filed under
Recipes
.
Most original Chinese recipes come with a prohibiting amount of calories. And so you constantly need to improvise in the way you cook or the ingredients you use. This is my adaptation of sweet-n-sour chicken — the diet way. What I like from this recipe is that if you look close to the ingredients, it's a multi-national dish: peach with chicken as served in Morocco, pineapple/mango with chicken as it's used in the tropical islands, asparagus as it's used in Europe, salsa as it's used in Mexico. And if you put all these elements together, you end up with the well-known Chinese flavor! The taste to the original recipe sweet-n-sour chicken is remarkably close. And at only 200 calories per serving, while this full plate will fill up your stomach! It's very South Beach Phase-II compliant too, much more than the original recipe which requires the very-sugary traditional sauce and rice.
Ingredients (for 1)
* 90 gr fat-free chicken breast, cut in cubes (100 cals)
* 1 red bell pepper (20 cals)
* 1/4 of the big kind of onions (10 cals)
* 4 tbspoons of Archer Farm's "Mango & Peach" or "Pineapple & Peach" salsa (found at Target stores, 20 cals)
* 4 asparagus (~50 cals)
Execution
1. Boil the chicken and asparagus in some boiling water for 10 minutes. Drain, and place the asparagus to your plate.
2. Cut the onion and bell pepper into a bite size, about 2×2 inch each.
3. In the pan that has the chicken in it, add the pepper, onion and salsa. Add 1/4 cup of water.
4. Cook for a few minutes under medium heat until most of the water has evaporated. Serve hot, do not add salt and pepper.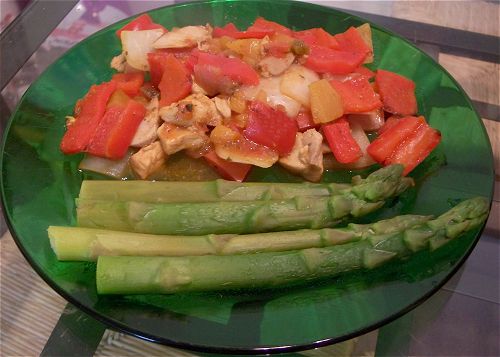 Tip: If you don't have access to Archer Farm's salsas, you can always make them yourself by cutting down and using just a bit of peach, mango or pineapple and a small tomato.