Posted on Sun 22 Apr 2007 at 1:03 PM PST. Filed under
Recipes
.
One thing that's really pissing me off when I am on a low-calorie diet is that because I am forced to eat more vegetables without fatty sauces or oils, it takes away a lot of the pleasure of taste. Many diet foods are as tasteless as eating grass. But I think I just solved the problem! Yesterday we went shopping at WholeFoods and there I found these TastyBite packages. I noticed that while their recipes used quite some oil, their calorie count for some of their products was not prohibiting (ranges from 105 to 140 calories per serving). So, I bought 4 of their products to try them (picture below).
Now, instead of doing what it's suggested in these packages (2 meals per package), you divide their meals by 4. And instead of actually eating these foods stand-alone or as side-dishes, you use them as sauce. For example, by adding 1/4 cup of water, 270 grams or already cooked cauliflower, broccoli & carrots (~100 cals), half of a low-calorie sausage (60 cals) and 1/4 of these TastyBites meals (~55 cals), you create an entree that's about 400+ grams (enough to fill you up real good — compare that to the 255gr frozen diet foods), it's really tasty because of the strong sauce used and it's still very low calorie (200 cals).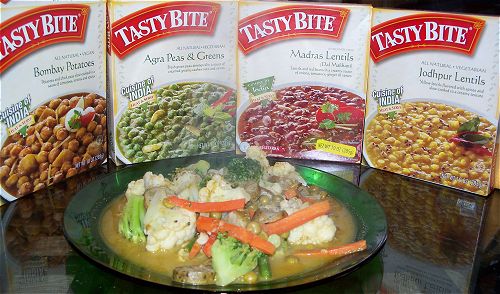 This is what I prepared for Sunday lunch, and I can tell you, I could not finish it all, it was that much! This sort of food is good for the South Beach Diet too btw, not just low-calorie/low-fat diets and they usually provide lots of fiber. You can experiment yourself with other vegetables and kinds of meat to accompany these sauces (I am thinking of trying again tonight by adding beans and smoked fat-free pork to the remaining sauce I have refrigerated). I wish that TastyBite would provide some low-fat/calorie options too, but even as it is right now, the solution is acceptable calorie-wise.