Posted on Mon 19 Feb 2007 at 7:06 PM PST. Filed under
Recipes
.
Yup, I am back on a diet, and so the low-calorie recipes are back on this blog. This fat free & light milk-shake has only 100 calories.
Ingredients (for 1)
* 1 "light&fit" Dannon yogurt in the flavor of your choice (60 cals)
* 1/2 chocolate sugar-free Jell-O (30 cals)
* 25 ml fat free milk (10 cals)
* 3 tbspoons of ice cold water (0 cals)
Execution
1. Pour all ingredients in the blender and blend for a few seconds until all brown and smooth.
2. Add a bit more water if the mixture doesn't blend well or if it's too thick.
3. Pour it into a glass with the help of a big spoon and enjoy it through a straw.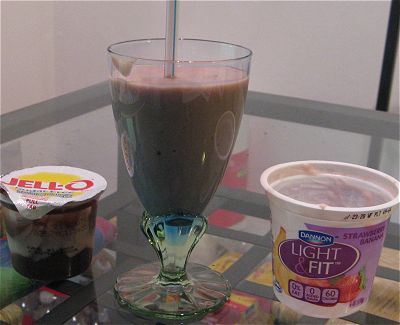 My refreshing milk shake this evening
in the midst of the products I used to create it.