A few weeks ago this weird box shown below was installed all around my town, here in the Bay Area. I don't know what it is, but ever since my WiFi-capable cellphone is picking up an SSID called "Free Internet Access". I can't seem to successfully connect to it though, so maybe they are not activated yet, or something. Would be cool to have free WiFi access no matter where you are.
UPDATE: Mystery solved! This is MetroFi's free WiFi service that only exists in 4 towns in the Bay Area so far. I am just lucky to live in one of the 4!
UPDATE 2: Apparently it doesn't work just yet. It let's you connect to their network and get the right IP addresses via DHCP, but it won't serve any web pages (or ads for that matter).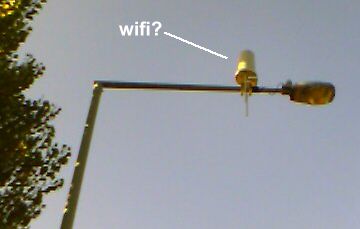 On other news, OSNews now has a .mobi URL: osnews.mobi. This page now loads our WAP version of the site. In the future we might redirect it to our cHTML version of the site which is more full-featured.
My 4GB iPod Nano is here, it has 2 GB of free indie alternative rock music in it so far. The most popular group in it is "The Postal Service" to give you an idea of how "underground" that Nano is.