Posted on Sun 10 Sep 2006 at 6:35 PM PST. Filed under
Mobility
.
It really bothers me when a major web site goes live with their new mobile effort, and it proves to be much worse than the previous one. Check NYTimes' new mobile web site here. It uses CSS for layout and it has fixed width. By looking this design it is so darn obvious to me that the guy who coded this has no freaking clue about the real mobile browser world and he has tested this site only with a Motorola RAZR phone at 176×220 resolution. Effectively, his web site works well only with about 20% of the world's mobile browser market and it looks like a stupid long strip on a QVGA phone (and only on these phones that support CSS). It seems that these web devs think that if it looks good on a desktop browser and on a RAZR it's enough. Well, it isn't.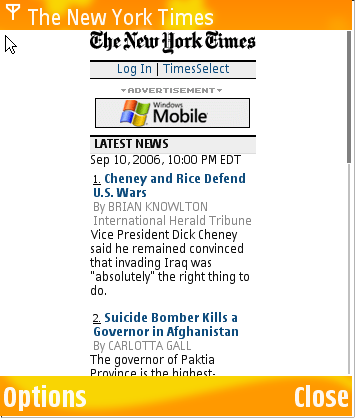 The site sucks on higher resolution cellphones, like on the N80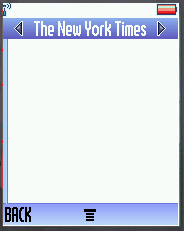 The site does not work at all on Motorola's older cellphones, like the iTunes/E398 phones

On the other side, we have Digg's new official mobile site, DiggRiver, which is way more compatible by using standard tags for layout. I sent Digg some feedback on how to fix 1-2 more things, but overall, Digg's effort is way better than NYTimes' in terms of mobile browser compatibility.