Posted on Tue 22 Aug 2006 at 4:08 PM PST. Filed under
Recipes
.
This fresh string-beans dish (in Greek: fasolakia, hear it) only has 100 calories, but if you prefer it with a bit more substance you can add 90 gr of either fat-free chicken breast or beef sirloin (in small pieces) to cook together with the following ingredients. If you add the suggested meat, expect 200 calories out of the dish.
Ingredients (for 1)
* 100 gr fresh long beans (20 calories)
* 55 gr of a peeled potato (50 cals)
* 1 medium-size tomato (25 cals)
* 1 onion (5 cals)
* salt and pepper to taste
Execution
1. With a kitchen knife cut and throw away the two edges of each bean (its "tails"). Wash the beans and potato.
2. Cut the potato in small cubes. Finally-chop the onion and tomato (or use a cheese grater for the tomato).
3. In a pan under medium heat add all ingredients and 2-3 cups of water. Stir a few times.
4. Cover the pan and let it simmer until the veggies have cooked through and the tomato sauce is thickened. Serve hot.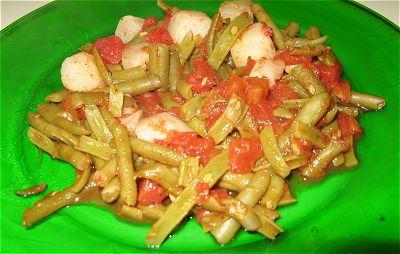 My lunch today.