Posted on Mon 14 Aug 2006 at 5:59 PM PST. Filed under
Recipes
.
I love smoothies! Depending on how it's made (with ice cream, sherbet, or without), a portion weighs between 120 and 200 calories. Here's a version that only has 70 calories and it still has the full taste!
Ingredients (for 1)
* 50 gr of frozen strawberries or cherries (20 cals)
* 1 sugar free Popsicle ice pop stick (15 cals)
* 80 ml pure orange juice (35 cals)
* 1 ice cube
Execution:
1. Remove the stick from the popsicle and throw it away.
2. Place all ingredients in the blender. Secure the blender.
3. Start the blender in high-speed, or in its ice-breaker mode (if it has such a mode).
4. If the ice doesn't seem to break, add some cold water. Blend until smooth.
5. Pour into a glass and enjoy it through a straw. Beware of brain freezes!
Tip: Do not mix different kinds of fruits. They don't taste bad, but they look like goo…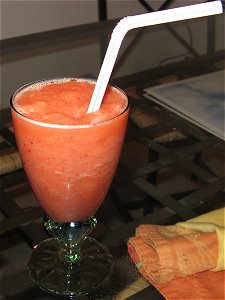 My refreshing smoothie today!